Apple Nutter eLiquid By Large Salts
Apple Nutter eliquid by Large Salts is a unique blend with fruity notes a smooth finish. The combination of apple and cinnamon flavours creates a sweet taste on inhale, complemented by a layer of caramel. Hints of pecan and vanilla feature on inhale.
Apple Nutter uses salt nicotine, the benefit of salt nic is that it produces a smooth throat hit, it also absorbs faster than standard freebase to satisfy cravings faster.
Part of the Large Salts range, this is a 50% VG / 50% PG e-liquid. It is recommended to be used with mouth to lung vape kits, such as pod vape kits and starter kits.
Manufactured in an ISO 7 Cleanroom in the UK, all e-liquids in the range are fully TPD compliant, with registered ECID numbers.
Full-range sample packs are available if you're interested in purchasing or distributing. We also offer a range of custom POS items and CDU options - free of charge.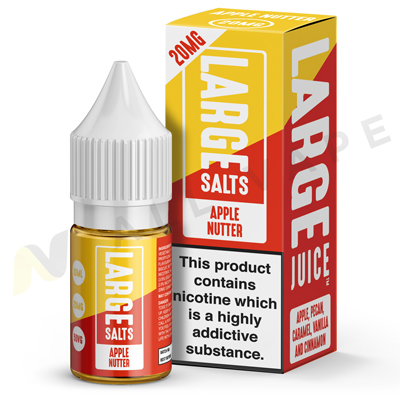 eLiquid Bottle Size:

10ml

eLiquid Brand:

Large Juice

eLiquid Mix:

50% VG

eLiquid Strength:

10mg , 20mg , 5mg
Alternate Choices