Apple Nutter eLiquid by 50 Large 50ml
Apple Nutter eliquid is a smooth-tasting dessert blend with a fruity undertone. A sweet combo of apple and cinnamon features on inhale, sweetened further by caramel. A rich inhale is provided by notes of pecan and vanilla.
Part of the 50 Large range, this is a 0mg nicotine strength 50ml shortfill. Each underfilled bottle has been designed to have a 10ml nicotine booster shot added to it. For example, adding an 18mg shot will create 60ml of 3mg eliquid, whereas adding a 9mg shot will create 60ml of 1.5mg eliquid.
Shortfill eliquids give the end-user more freedom when it comes to selecting nicotine strength and level of throat hit they'll experience.
Available in 50ml recyclable PET bottles, this eliquid is a 70% VG / 30% PG blend, it should be paired with sub ohm kits and tanks.
If you're interested in distributing or purchasing, sample packs are available on request, we also offer POS and CDU free of charge.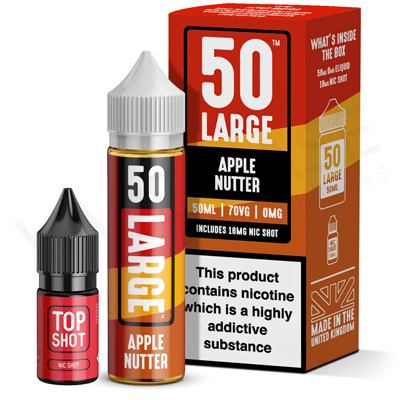 eLiquid Bottle Size:

50ml

eLiquid Brand:

Large Juice

eLiquid Mix:

70% VG

eLiquid Strength:

0mg

RRP

£11.99
Alternate Choices