Pecanilla eLiquid by 50 Large 50ml
Pecanilla eliquid is a rich dessert flavour, pecans on inhale create a sweet and a nutty taste, that's softened by a fusion of cream and vanilla custard. Finally, a hint of tobacco adds a smoky afternote.
Each pack of 50 Large contains everything that's needed to create 60ml of 3mg eliquid. In each box, you'll find a 50ml 70% VG shortfill eliquid and a 10ml 18mg Top Shot Nicotine Booster.
The nicotine booster shot itself is TPD compliant, all 50 Large 0mg eliquid goes through the same rigorous mixing, bottling and testing processes as our TPD products, created in an ISO 7 Cleanroom.
Available in 50ml recyclable PET bottles, this eliquid is a 70% VG / 30% PG blend, it should be paired with sub ohm kits and tanks.
If you're interested in distributing or purchasing, sample packs are available on request, we also offer POS and CDU free of charge.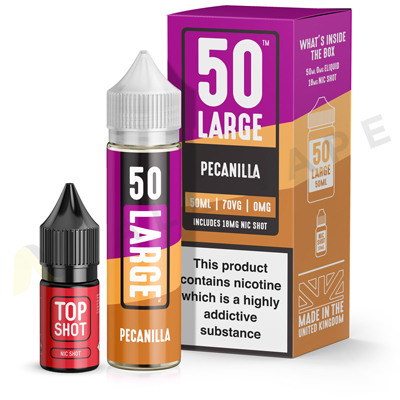 eLiquid Bottle Size:

50ml

eLiquid Brand:

Large Juice

eLiquid Mix:

70% VG

eLiquid Strength:

0mg

RRP

£11.99
Alternate Choices